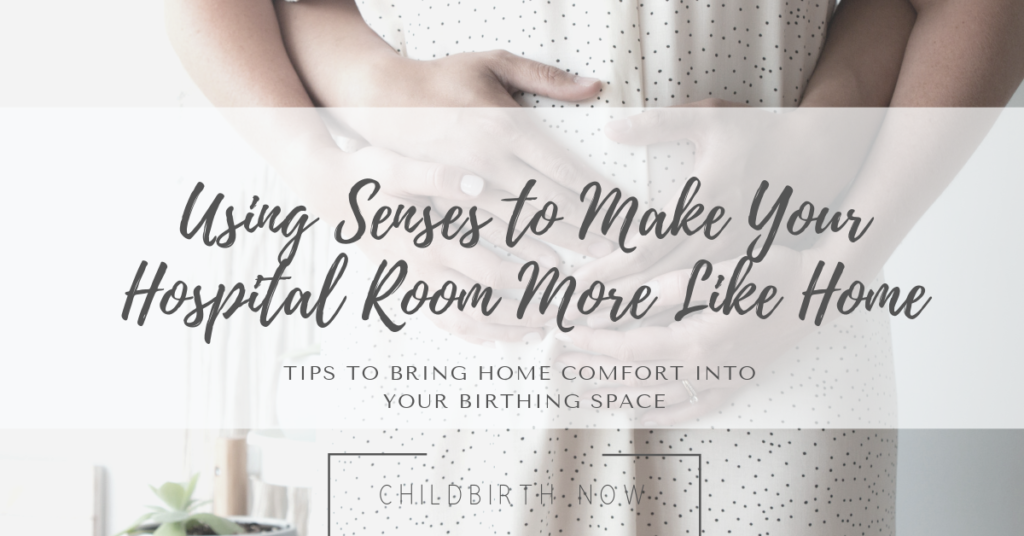 Homebirth always offers a beautiful, peaceful and intimate way to welcome a little one into the world – but it may not be for everyone. Some mommas want easier access to pain management, others prefer more assurance for the "what if" situations that could arise, and some simply just feel more comfortable in a hospital setting.

If that's you–
you can still have a beautiful, intimate, and home-like environment for your own birth. The goal is to make it your own.

Think about what makes home feel like home to you:
Comfort. There are so many things you can do to bring comfort to the hospital room. While a bed is provided and you can't haul in your living room couch to lean on during contractions, you can bring small touches of home.

A birthing gown and robe that is beautiful, but still allows accessibility
Lounge wear for after birth and easy access for skin to skin
Your favorite pillow to rest on
A throw blanket to make the bed feel more cozy and colorful
Sight. Look around – what appeals to your sight and reminds you of home? Create a soft atmosphere that feels magical rather than sterile.

Candles (battery operated for safety and ease)
Twinkle lights
Banner with birth affirmations
Photos of loved ones, pets, or inspiration to focus on
Pops of color in your favorite blankets, pillow, clothes, and nursing pillow
A small plant for more color and life (even if it's fake!)
Sound. The sounds we hear are important in ushering in calmness. A sense of relaxation is vital for laboring! Soothing sounds can help.

Small fan for white noise to drown out hospital noises
Audio with birthing affirmations
A small bluetooth speaker and headphones
Playlist for labor

These can be upbeat if you want to boost energy and movement, or calmer when you want to sink into focused mode.
Use your favorite songs. Ones that touch your heart about becoming a mother, instrumental, worship, whatever you find inspiring and enjoyable!
Smells. Smell can become connected in our brains to certain places, memories, or people. Use that to remind you of wonderfully safe spaces!

Your favorite lotions, body wash, and shampoo
Essential oils:

Oil diffuser
Room spray
Keep a stash of relaxing scents to add to a washcloth or cotton ball near you to smell and change out as needed. Sometimes scents can get too much during labor. But, they also can be extremely helpful to invoke relaxation.
Make sure to use baby safe oils and scents
Tastes. While hospitals may limit the food you eat during labor, you can bring clear liquids. You also can stock up on snacks and your favorite meals to eat after birth.

Bone broth that has lots of vitamins, collagen, and minerals
A healthy electrolyte drink with minerals and no sugar
Honey sticks for a boost of energy
Of course, a doula can be valuable in helping to transform your hospital room into your personalize birthing space. They bring soft voices, touch, and effective techniques to any setting and can help support the birthing environment you desire.

Kayann served as a labor and delivery nurse for over 17 years in NYC, and now extends her expertise and passion for women's care outside of the hospital. Her mission is to educate during pregnancy and support moms through their birth experience. Click here to learn more.