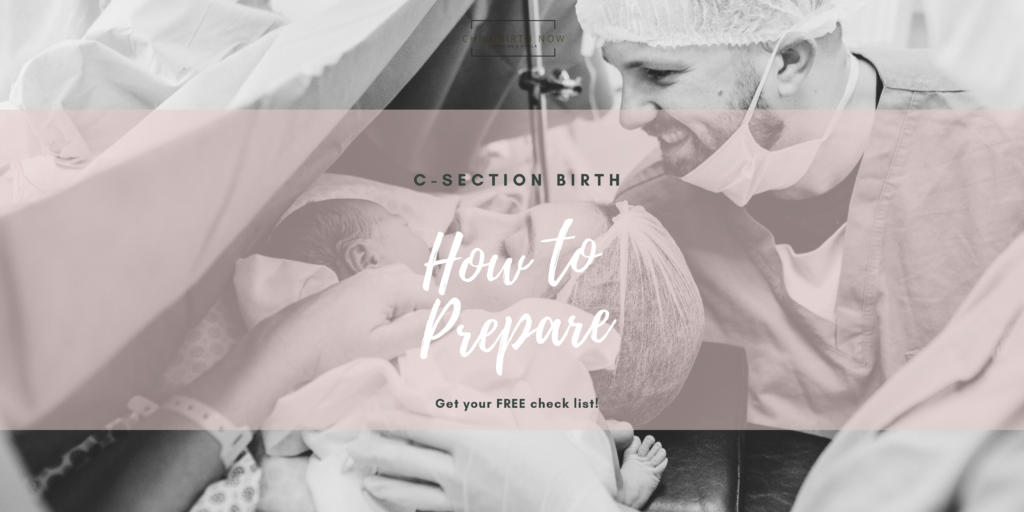 A doula and c-section may not be the first combo you think of when you think of hiring a doula, but they can aid in supporting you through any type of birth.
Doulas can help you prepare for what to expect during a scheduled c-section and support you postpartum as well. While nurses and doctors are often busy treating others out of necessity, doulas are dedicated to you!
A doula can:
Be your advocate to ensure your birth plan desires are upheld
Discuss possible changes with you.
Help you get up to go to the bathroom if a partner has to go to work or check on children at home.
Keep you company and keep you as comfortable as possible.
Take pictures for you
Provide personalized lactation support. 
While you may have a date set for your scheduled c-section, it is a good idea to have your bags packed and ready to go just in case you do go into labor early or there is an emergency. Many suggest having a bag ready between by 35 weeks pregnant.
Need to know what to pack?
We've created a check list for you to print out to help you get started!

Here's a few more tips from experienced c-section mommas:
Having a belly binder was the #1 thing mentioned to pack! This helps support your incision and muscles, which will have been through a lot.
Use a pillow to hold when you sneeze, cough, and on the car ride home to add additional support to your belly.
The IV fluids they give you can cause swelling, use compression socks in the hospital to help keep it minimal.
Keep up with pain meds, even if you feel great keep ahead of the pain! You might need them for a few weeks.
Take a stool softener soon after birth to get the plumbing working faster.
Some people react to the pain medication and it causes itching. Take some Benadryl to help!
Learn the best way to sit up and stand up: Roll to one side, swing your legs over before trying to sit up. Once seated, push yourself up using your hands on your knees, which will put less strain on your stomach muscles.
There may be numbness along your scar line for a while, use oils like Vitamin E or lotions to help soothe it and heal.
Have everything possible within reach while you are resting once you are at home. Create a bedside basket with snacks, water bottle, baby file, nursing pads, burp cloth, diapers, wipes, diaper cream, nipple cream, lip balm, etc.
Most importantly- Do not be afraid to ask for help! Remember a c-section is a major surgery along with adding a newborn to your family. You must take care of yourself too! You will need some assistance. Plan to have help throughout your hospital stay, whether that is your partner, a doula, a relative, etc.
Kayann served as a labor and delivery nurse for over 17 years in NYC, and now extends her expertise and passion for women's care outside of the hospital. Her mission is to educate during pregnancy and support moms through their birth experience. Click here to learn more.